Health & Safety
We Understand the importance and responsibility we have to ensure we abide by the Health & Safety Act 1974. Event Eateries recognises that we have a responsibility to provide a working environment that is safe for our employees. We also appreciate and recognise that we have a duty of care towards those individuals that are not employees, but indirectly come into our working proximity during events, whether it be the public or colleagues.
We base our Health & Safety commitments on our professional ability to provide a complete service to an event, to guarantee the organiser that we consider health and safety of the up most importance. Which is why we have provided you with a detailed breakdown off all our procedures to ensure that you clearly understand we provide a venue the complete service from the point of arrival, to the final dismount.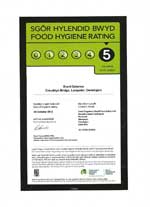 Registration of food business
Event Eateries is registered with Ceredigion County Council 01545 572105 where they have achieved the highest standard of 5 stars of the national scheme of "Scores on Doors"
Public and Employers Liability Insurance
Event Eateries have Public and Employers Liability Insurance. The cover is £10 Million for Public Insurance and £5million for Employers Liability Insurance.
Each Individual mobile catering unit has
A safer food for better business pack is provided on each catering unit. It ensures we comply with risk assessments, due diligence in the preparation of food, and provides staff with a training manual.
Controlled Temperature records for food, chilled and frozen.
Has a ECA Electrical certificate, which is a periodic Inspection Report for an electrical installation, including PAT tests on individual pieces of appliances. This test is completed annually and is tested to BS76717 and BS7909 1998.
Has a Gas safe regulations certificate provided, which includes the testing of each individual appliance to ensure carbon monoxide levels are at a minimum. This test is completed annually.
Has 2 Fire extinguishers that are tested annually. Each fire extinguisher is specific to the individual unit depending on the appliances within that catering unit.